Product timeline
The history of Shelter MC phono cartridge started from the first generation model of 701E launched in February 1986 with the company foundation. The 701 series was sold over 8 years with expanding its variation to higher output model 701ES and pure Beryllium body-shell model 701EM until year of 1994 (701EM sold until 1996). On the other hand, the model 501, which was released in 1990, increased its output voltage to 0.4mV with model 501 Type II in 1992 and then it developed with further voltage increase to 0.5mV of model 501 Type III. The 501 series has been used habitually with many customers and exists as a long seller model to symbolize the quality of Shelter. In 1998 released new top model 901 instead of 701EM and then upper models of 9000/7000/5000 were launched with changing its body structure and front yoke in 2005. Among them model 9000 has history dominated output voltage of 0.65mV and reigned as a flagship model until Harmony was introduced in 2008. The MC step-up transformer of model 411, which was released along with model 701E, replaced to model 411 Type II in 1996 with succeeding original design philosophy so it is longest lifetime model for monophyly line.
1986

The company established in February
1987

Released Model 701ES in April
1988

Released Model 701EM in April
1990

Released Model 501 September
1994

Model 501II awarded MJ Technology of the Year Award
1996

Model 411II awarded MJ Technology of the Year Award
1998

Model 901 awarded MJ Technology of the Year Award
2004

Model 901 awarded The Image hi-fi Award
2006

Model 301 awarded The Image hi-fi Award
2008

Released Harmony
2014

Released Accord
Award history
Shelter is a small specialize phono cartridge manufacture, but through nearly 30 years of company history there are many splendid encounters with wonderful customers, and now the product is not only sold in Japan, but also exported to many oversea countries.
During that period we received many authoritative awards such as Technology of the Year Award in Japan, The Image hi-fi Award in Germany, Golden Year Award in USA and many others. We appreciate it is indebt to those analog lovers who supports Shelter's sound design work.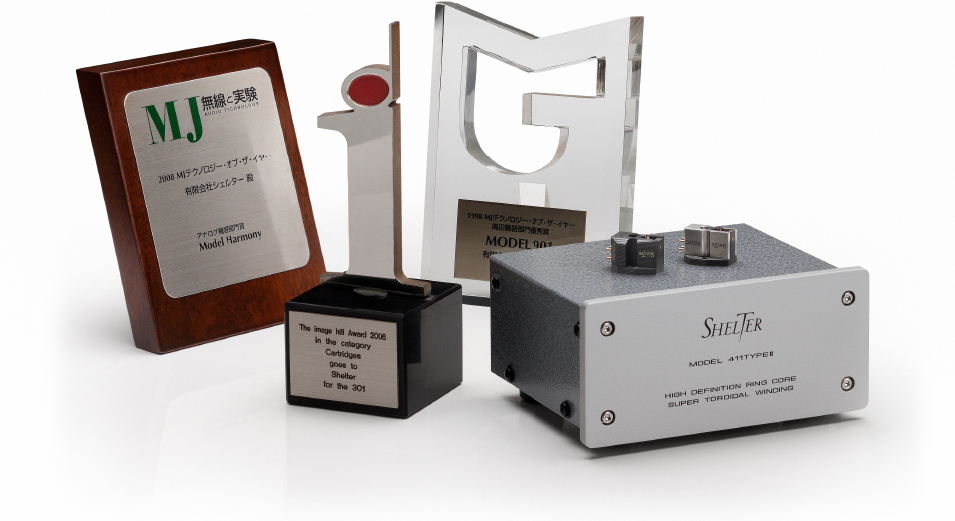 Company overview
| | |
| --- | --- |
| Company name | Shelter Inc. |
| Address | 6-28-6 Togashira, Toride-city, Ibaraki 302-0034, Japan |
| Telephone | +81 297 78 2491 |
| Establishment | February 1986 |
| Founder and Designer | Yasuo Ozawa |